Hero Link
Nothing like getting caught by the enemy...
Mr. Z
Preview of a dungeon in QfL: Estys steps into the Dragon Tower...
PolygonX8
What a jokeshot.
Radien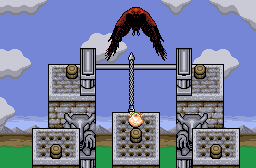 The Thunderbird is half ripped, half custom-drawn. The same goes for the rest of the screen, in fact.
Shoelace
That is one hot Key!