About the game:
When you die it skips the death animation to make it much more enjoyable to retry the level.
At anytime while in a level you can press L to go back to the world map.
When you die it will continue to play the music in the area! Goodbye death sounds!
There are 10 worlds each with there own theme and gimmick.
You goal is to beat each level in each world to progress to the next world.
This game is being made to be extremely difficult.
Each level is a small challenge and is only one screen big.
Here're two levels in the game:


The hammer peg switch's between being solid and non solid and if your on it when it turns to be solid then you die! When you step on the ice the is turns into water after a while! Don't go in the water or you die!



Traps that go up and down.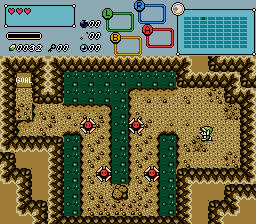 This game correctly has the first 4 worlds done! If anyone would want to beta test it that would be great!
Edited by TheRock, 22 November 2019 - 05:22 PM.